La propriétaire pourrait vous parler longuement de l'histoire du Mas des Pampres. Mais les témoignages récents des locataires vous aideront à avoir un avis précieux sur l'expérience qui vous attend en séjournant au Mas des Pampres. N'oubliez pas vous aussi d'envoyer vos commentaires et appréciations après votre séjour !
Témoignages 2015 à aujourd'hui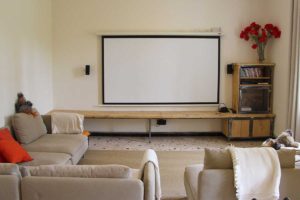 « Séjour fantastique dans une maison idéale pour des vacances entre amis et, ou, en famille. Tout est prévu pour que les locataires puissent déconnecter et se sentir à des années lumières du quotidien : belle piscine, la cabane pour enfants, kart, tracteurs, crocket, jeux de boules, badminton, ping-pong, platanes pour calfeutrer et ombrager l'ensemble. Nous avons également apprécié la taille de la maison qui permet à chaque couple ou famille de se créer son espace d'intimité.
La cuisine est exceptionnelle !! Des propriétaires top ! Ils sont à notre disposition, si besoin, d'une discrétion absolue. Nous avons passé un séjour de rêve pour notre 10ème maison entre amis, nous avons eu un accueil plus que parfait. Bref, on reviendra ! »
Ornella T. – août 2015 – France
~~~~~~
« Maison somptueuse, au calme, propice aux bons moments en famille ou entre amis, à proximité des Alpilles ».
Thomas D. – avril 2015 – France.
~~~~~~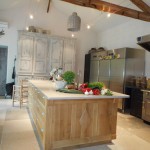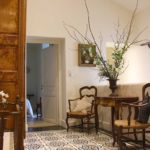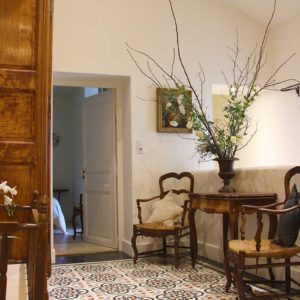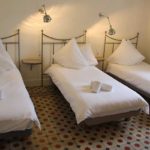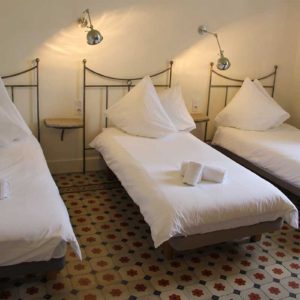 « Grande maison tout confort, isolée du voisinage, très calme aux grands espaces. La cuisine toute équipée est grande et très fonctionnelle pour une semaine entre amis ou en famille. Les pièces de vie sont agréablement décorées et très paisibles.
Les 7 chambres sont spacieuses avec la salle de bain attenant à la chambre pour la plupart d'entre elles ce qui est très pratique ! Rien à redire sur la propreté. Rapport qualité prix très intéressant. Pour résumer : Je conseille ! »
Marine M. – mai 2015 – France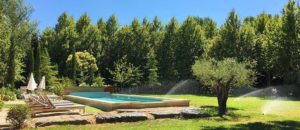 ~~~~~~
« We were 2 families of 5 who after a long journey, arrived at Mas des Pampres and immediately felt relaxed and on holiday. Mireille and family were so welcoming and the house was stunning. The house is extremely well equipped and very comfortable. Everything we needed was there. The children had endless fun in the pool which was perfect for cooling off in. We loved our stay here and didn't want it to end. An amazing property with lots to see and do in the surrounding area. Thank you Mireille. »
Ruth W. – juillet 2015 – Royaume-Uni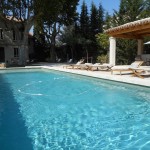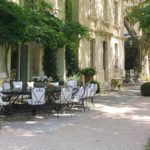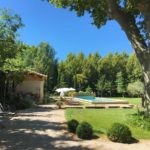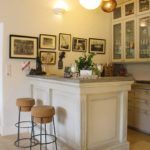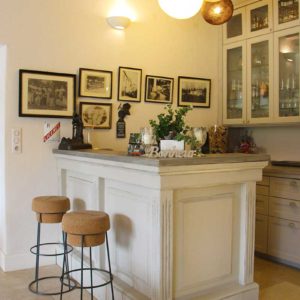 ~~~~~~
~~~~~~
« We've had a lovely week at Mas des Pampres. The house is very spacious, comfortable and beautifully furnished. The kitchen is amazing with every gadget you could imagine. The garden is very secure and private with lots to keep the kids happy and the pool very well maintained.
We enjoyed the market at St Remy and Avignon is also good for a visit. L'Isle sur la Sorgue is lovely for a wander and a swim in the river!
Thank you Mireille for your fantastic hospitality. »
Deb W. – juillet 2015 – Royaume-Uni
~~~~~~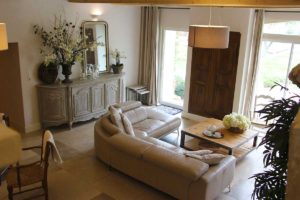 « The house is very beautiful: cozy, very spacious, each room has its own bathroom, nice large kitchen, plenty of toys for the kids, nice swimming pool with a lower level for kids…. The owners are very friendly and gave us a warm welcome : fresh fruit, beverages in the fridge upon arrival and breakfast served outside on the first morning). The house is situated in the village so you can just walk over the local bakery, pharmacy,.. summarized: we had an excellent stay and vacation. thank you ! »
Véronique W – novembre 2015 – France
~~~~~~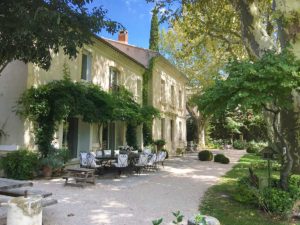 » This incredible home in the middle of Provence has everything you could ask for if you are looking for a place for a large family or group. We rented it for a week to celebrate my partner's 50th birthday and could not have asked for a better place for the eleven of us who stayed there. The photos on the website do not lie; it is as beautiful and as spacious as it looks. But beyond the beauty, what made it so special was how well appointed and equipped the place is. Tons of dishes, glasses, towels, candles, etc. Great beds and bathrooms…and lots of them. We especially loved the two huge outdoor tables and a large indoor one that easily accommodated all of us each night for dinner. Pierre and Mirielle (the gracious and generous proprietors) were on site to help us with anything we might need, but never got in our way or intruded on our enjoyment. Our only complaint would be the spotty wifi, but one should really not worry about those things with one is on vacation. All in all a wonderful place for creating wonderful memories. « 
Jane – octobre 2017 – Royaume-Uni
                                                  ~~~~~~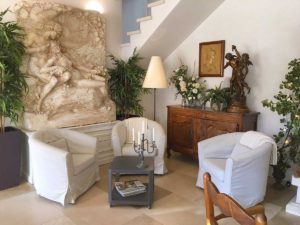 » On a loué beaucoup de maisons en France mais le Mas de Pampres a été le tout meilleur: bien localisé, beaucoup de charme, beaucoup de salles de bains, une grande cuisine très (très) bien outillée, air conditionné, deux frigos énormes, beaucoup (beaucoup) de place à l'intérieur et à l'extérieur, tout  fonctionne bien, salle de cinéma, vélos, grand terrain dans le centre du village mais tout à fait discret, fruits et vins pour nous accueillir, les propriétaires toujours disponibles pour répondre à nos questions. Mieux que sur le photos d'internet !  »

Stan M. -aout 2017 – Allemagne
                                                      ~~~~~~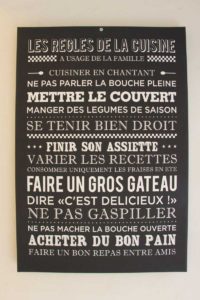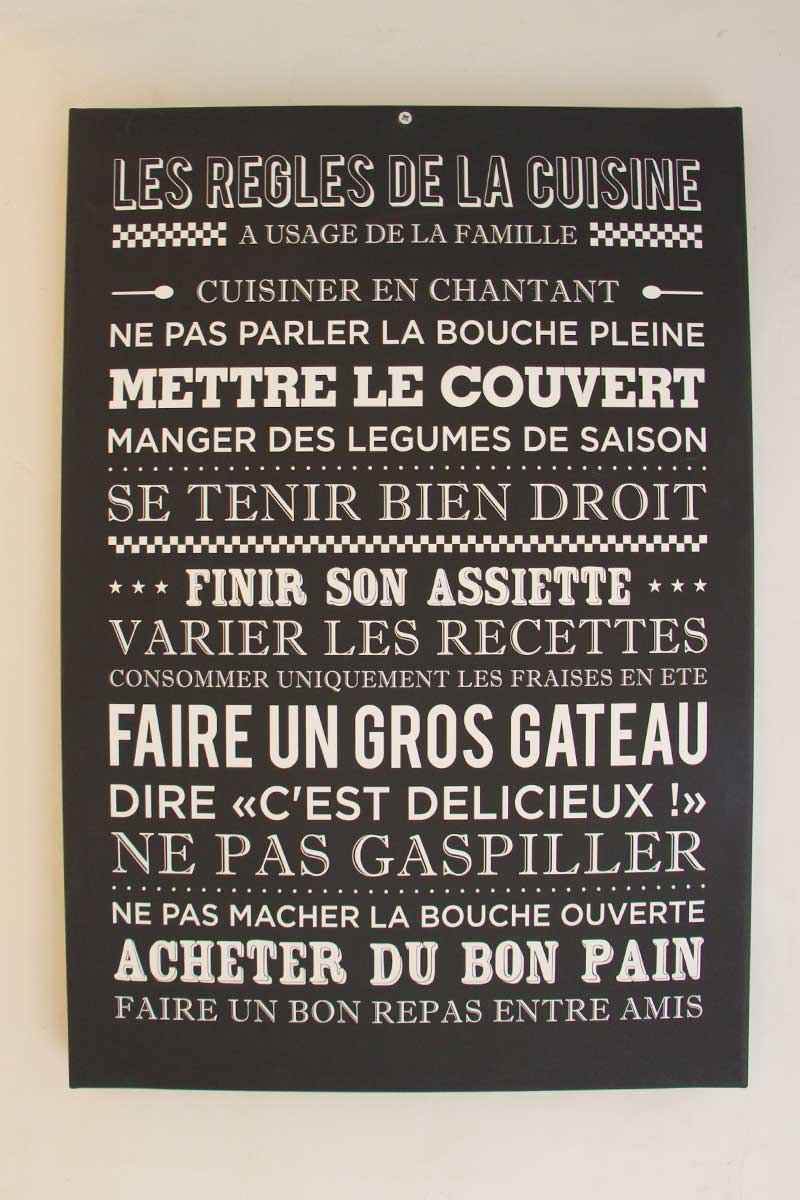 » We had a lovely stay. The farmhouse exceeded our expectations. The grounds were stunning and the house was also spectacular. Stocked with everything you could possibly need, from spices to cello/aluminum wrap, dinner napkins and every pot/utensil you could possibly need to prepare the meal of your dreams. Our teenage kids loved the pool, playing football on the property, jumping on the trampoline and feeding the 3 adorable grey chickens who look like show birds and live in a little house off the driveway. Our hostess Mireille and her husband Pierre were fabulous, greeting us with a large basket of fresh fruit, pizzas and savoury treats as well as wine and juices from their family's farm. The location is fantastic, within 15-20 minutes from the best Provençal markets such as L'Isle Sur La Sorgue, Carpenaras, Saint Remy de Provence, Avignon. Also 30 minutes away from our favourite wine region Chateauneuf du Pape! We even did a road trip to Saint Tropez (only a 2.5 hour drive) to go to the market at Place des Lices and swim at the Pampelone beach. Overall a great vacation.  »

Helen D – juin 2017 – Canada
                                                      ~~~~~~
 » This is one of the most incredible places we've stayed – not just on Airbnb but hotel, B&B,  boutique lodging, everything. The house itself is outstanding, the attention to detail is incredible and everything has been been thought of to make your stay comfortable. The little touches throughout the house really make a difference, the excellent linens, the comfortable beds, the furnishing are such a good quality that there isn't a single thing you would want to change.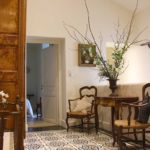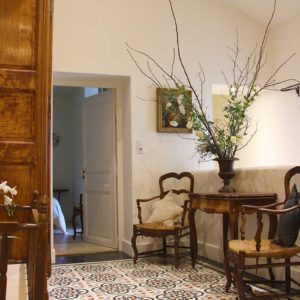 The kitchen is so well stocked with everything you need to become a gourmet chef, it was so good we didn't eat out at all in the evening, we all cooked together which was really wonderful. It's hard to describe how wonderful the outside area is, it's such
a beautiful garden that even though it wasn't that warm, we spent so much time out there.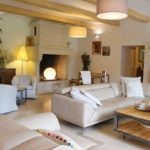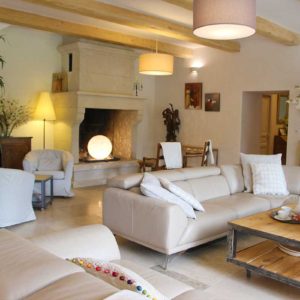 The house is also back off of the road so there's no noise at all from cars, you wake up  every morning to the sound of birds and wind in the trees. Communication with Mireille  and her husband was wonderful, they were so helpful and thoughtful with their recommendations. The bakeries and the butcher that are a few steps from the house are amazing and there are a lot of lovely villages a short drive away.
The cinema room at the back of the house is wonderful for movie nights and there's lots of  fun games to play, for adults and children alike. There is nothing at all I would change  about our stay at the house, it was absolutely perfect. I would highly recommend it
and will come back again for sure.  »
                                                      ~~~~~~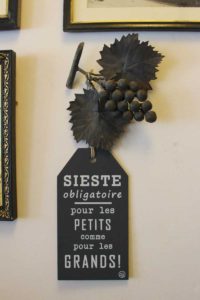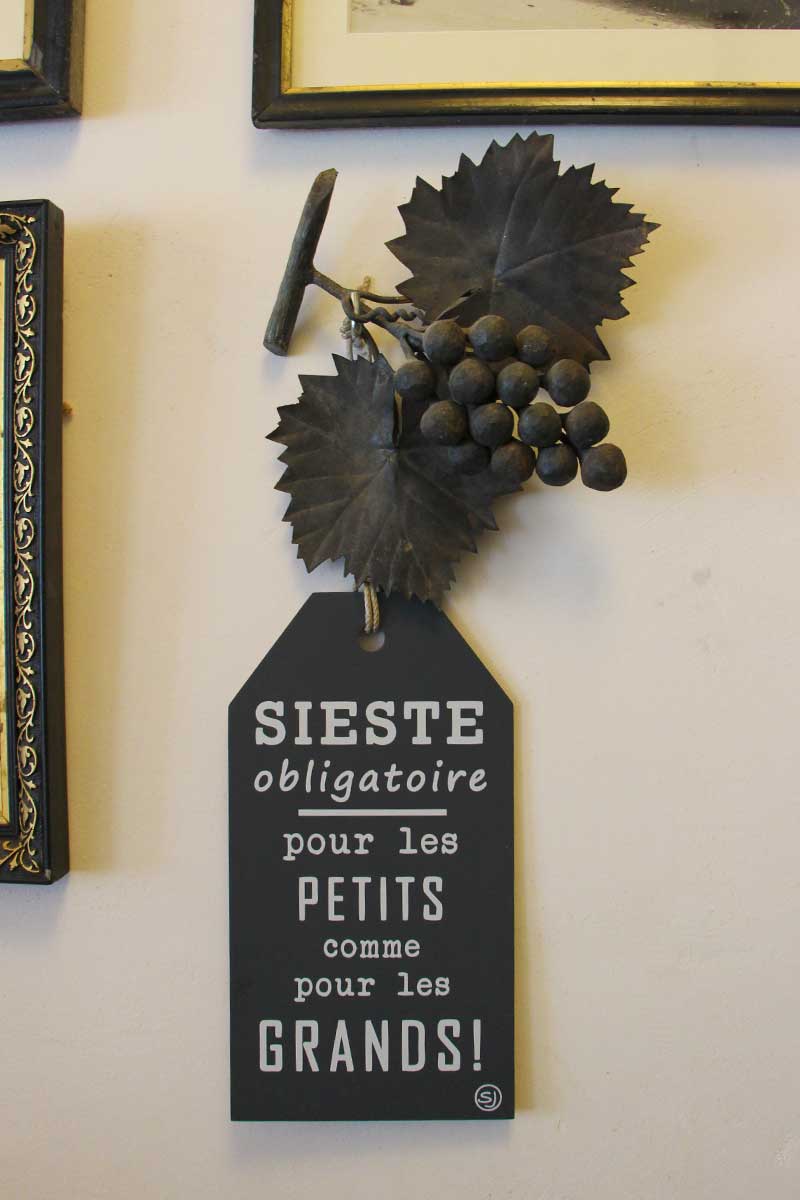 Les locataires sont tout particulièrement séduits par le charme du Mas des Pampres, mais c'est sans compter la magie de l'environnement  au cœur d'une Provence aux milles parfums, aux mille trésors.
Situé dans le village de Cabannes, dans le département des Bouches-du-Rhône, c'est le lieu idéal pour passer vos vacances en famille ou entre amis et découvrir les environs… dépaysement garanti !
Découvrez vite la multitude d'activités que vous réserve cette belle région !